Welcome For the past twenty years, I have been a therapist, dividing my time equally between psychotherapy itself and other related projects.
Throughout the psychotherapeutic process, I travel alongside my clients on a journey often filled with difficulties and personal pain. Τhis journey usually leads to understanding and reconciling the client's past and present, with new hopes and choices for the future. The client will learn who he is, what he wants, and where he is going. Moreover, he will learn to listen to and trust himself. In doing so, he will be able to enjoy a full, creative live unburdened by stress, shame and low self-esteem.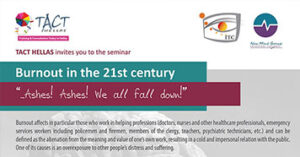 EMDR Psychotherapy
Eye Movement Desensitization and Reprocessing Psychotherapy helps a person deal with emotional distress symptoms that are the result of disturbing adverse experiences or situations. EMDR therapy alleviates the discomfort associated with difficult memories of the past, the difficulties of the present, and the future's worries. Through EMDR Therapy, emotional discomfort, problematic beliefs about ourselves, others, and the world change as the person's distress reduces.
What is Neurofeedback
Neurofeedback is a form of biofeedback which has been widely researched over the past few decades. Neurofeedback is also known as EEG biofeedback. During a session, the client's brainwaves are recorded with the use of the electroencephalograph. The wave signal is returned in both a visual and auditory format to the client via a program with the aim of improving brain regulation control and function.
Psychological Support
The basic purpose of psychotherapy is to understand ourselves and to acquire a satisfying quality of life. The therapeutic process can help individuals see themselves as complete human beings with both strong and weak points, in a clearer light. Its goal is to develop a healthy ego and to highlight each individual's authentic self.
My areas of expertise are:
Individual therapy

Group therapy for Adolescents and Adults

Family Support

Mindfulness Training

Supervisory Role of Mental Health Professionals
Anger Management

Dealing with Grief & Loss

Self-Esteem Issues

Post-Traumatic Stress

Special Rehabilitation Programs for Vulnerable Groups
Skill/Potential Evaluation

EMDR Therapy

EEG biofeedback

Stress Disorder