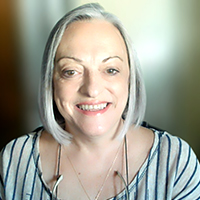 Penny Papanikolopoulou is an EMDR Europe Trainer and Consultant, Psychologist, Therapist with a strong background in experiential training in the U.S.A. and in Greece. She studied Psychology at a post-graduate level at GA. State University and completed her doctoral studies in the Department of Philosophy, Education and Psychology at the University of Athens in Psychology. Following her studies in the USA, she worked at Grady Memorial Hospital, Atlanta, Ga. U.S.A. (Emory University) in the Psychiatric Unit in the following departments: Psychiatric Emergency, Rape Crisis and Abuse Center, in the closed short-term recovery unit, as well as in the National Schizophrenia Rehabilitation Psychoeducation program. She also developed psychoeducational programs for prisoners in the Georgia Corrections System.
She was the Clinical Director of the "Theotokos" Foundation from 1994 until 2010, responsible for the Psychoeducational Centre and Counseling program, Prevocational and Vocational training, and Vocational Rehabilitation for children and adolescents with developmental impairments. She has organized many subsidized European Programs. Penny has dedicated generous amounts of time working with education and mental health professionals. She has organized many seminars and worked closely with the Ministry of Health and Labor to design ongoing training objectives for mental health workers and rehabilitation administrators in both industries.
At present, she runs a Private Practice where she offers individual, group, and family therapy since 1990. She has completed training and/or specialized in the following forms of psychotherapy and support:
Gestalt therapy
Focused Expressive Psychotherapy
Systematic Thinking
Behavioral Approaches to working with children with autism
Prenatal and Perinatal Psychotherapy
Behavioral Family Therapy and Psychoeducation
EMDR Europe Accredited Trainer & Consultant (Eye movement Desensitization and Reprocessing)
Accredited Go MAD Coach (Life and Business Coach) and
Certified clinician in Neurofeedback
She is also Clinical Coordinator for the following non-governmental organizations:
+"TACT HELLAS", an NGO with psychosocial rehabilitation programs in the regions of Epirus and Attica.
+"To Petagma" by the Parents Association for Supported Living for people with disabilities
Her roles also include Founding President of the Greek Society Supported Employment – ΕΛ.ΕΤ.ΥΠ.Ε. and of TACT HELLAS.